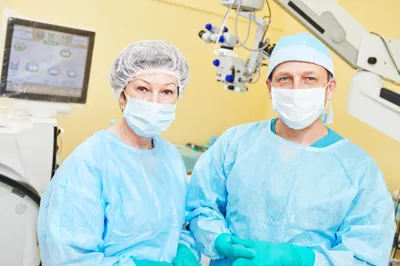 Eye Group offers eye care ranging from annual eye exams to specialty eye care and surgery.
The Eye Group office has the only single specialty ophthalmic surgery center in the city of Madison. We have two operating rooms and the very latest in eye surgical technology.
Once we confirm a patient's need for eye surgery, we can schedule and perform the needed procedure…sometimes all in one day.
What really makes Eye Group unique, though, is the powerful blend of four things: compassionate care, cutting-edge technology, comprehensive services, and exceptional experience.
Compassionate Care
We really care about you. You're the reason we get up every day to do what we do. We know what it means to struggle with poor vision and how frustrating that is. We'll take the time to understand your specific issues and then make sure you understand how we'll go about addressing them. We work hard to make things as easy for you as possible … because we care.
Cutting-Edge Technology
Technology is changing all the time throughout our culture. When it comes to eye care and surgical technology, the same is true. We stay up to date on the latest advances in eye care technology so we can provide exceptional care for your vision. Technology doesn't mean anything unless we know how to put it to work to make your vision—and your life—better. And we do.
Comprehensive Services
Comprehensive means "including all the necessary elements of something." That's the kind of eye care we provide—comprehensive. If you need a regular checkup, cataract surgery, lens implants, or anything else you might need related to eye care, we're qualified and ready to handle it.
Exceptional Experience
When you step into Eye Group, you'll always have an exceptional experience. Everyone in our office—not just our doctors—is committed to making you feel as comfortable as possible as we care for your vision. With over 50 years of practicing between our doctors, we have a proven track record of delivering the best eye care possible. That's exceptional.